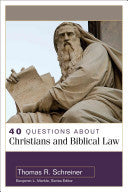 40 Questions about Christians and Biblical Law PB
By:
Thomas R. Schreiner, Benjamin L. Merkle
Product Details
Publisher
Kregel Academic
Year
2010
ISBN

9780825438912
---
This volume by Dr. Thomas R. Schreiner on the interplaybetween Christianity and biblical law is an excellent addition to the 40Questions & Answers series. Schreiner not only coherently answers the toughquestions that flow from a discussion about the Old Testament Levitical Law,but also writes clearly and engagingly for the student. The pastor, student,and layperson can easily understand Schreiner's biblical theology of the Law.
---
Share this Product