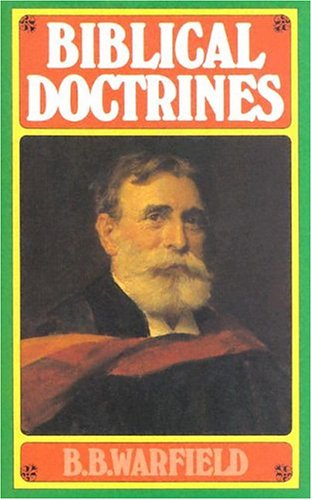 Biblical Doctrines HB
By:
Benjamin Breckinridge Warfield
Product Details
Publisher
Banner of Truth
Year
1988
ISBN

9780851515342
---
Although justly famed for his landmark defence of the divine inspiration and authority of Scripture, B.B. Warfield was a theologian with multiple interests. In Biblical DoctrinesWarfield reveals his mastery of such subjects as the doctrines of the Trinity, the Person and Work of Christ, Redemption and Faith. he covers the ground from the first essay, on Predestination, to the final one, on the Millennium, with the apparent ease of the master craftsman.
Rigorous in his scholarship, Warfield also possessed a personal spirit and style reminiscent of John Calvin's ideal of clarity and brevity. He had a highly refined ability to expound the truth to the mind in such a way that it arouses a distinctly religious response. In so doing he exemplifies the principle that all biblical theology ultimately leads to doxology.
TABLE OF CONTENTS

Page
1              PREDESTINATION            3
2              THE FORESIGHT OF JESUS             71
3              THE SPIRIT OF GOD IN THE OLD TESTAMENT        101
4              THE BIBLICAL DOCTRINE OF THE TRINITY                133
5              THE PERSON OF CHRIST 175
6              "GOD OUR FATHER AND THE LORD JESUS CHRIST"            213
7              THE CHRIST THAT PAUL PREACHED           235
8              JESUS' MISSION, ACCORDING TO HIS OWN TESTIMONY (SYNOPTICS)     255
9              THE NEW TESTAMENT TERMINOLOGY OF "REDEMPTION"             327
10           "REDEEMER" AND "REDEMPTION"           375
11           CHRIST OUR SACRIFICE  401
12           ON THE BIBLICAL NOTION OF "RENEWAL"            439
13           THE BIBLICAL DOCTRINE OF FAITH            467
14           THE TERMINOLOGY OF LOVE IN THE NEW TESTAMENT   511
15           THE PROPHECIES OF ST. PAUL    601
16           THE MILLENNIUM AND THE APOCALYPSE             643
LIST OF OTHER ARTICLES ON BIBLICAL DOCTRINES
---
Share this Product
---
More from this collection