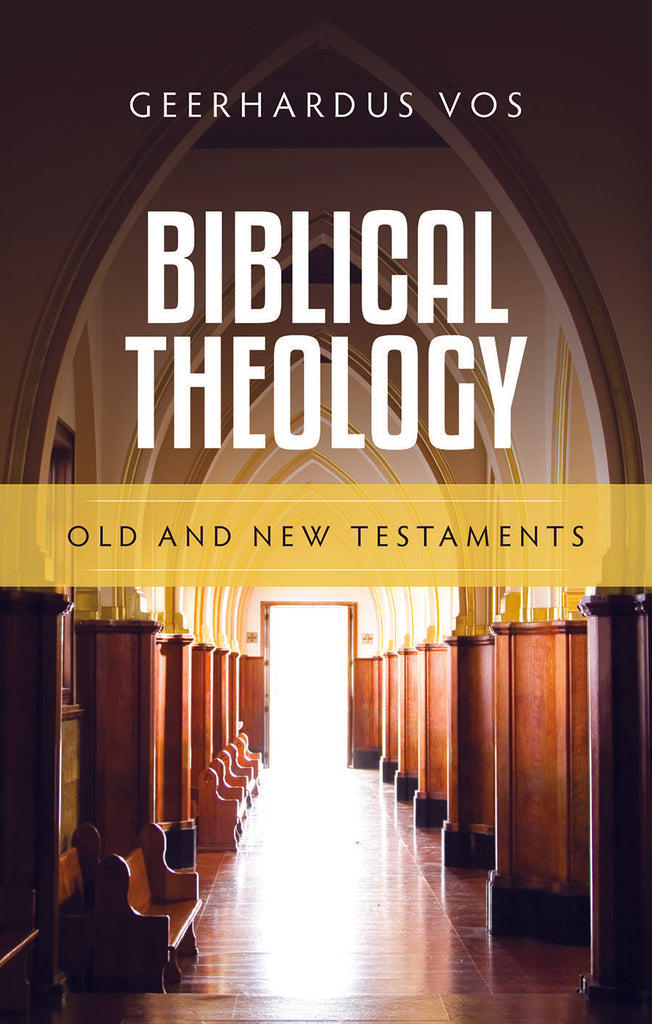 Biblical Theology: Old and New Testaments HB
Product Details
Publisher
Banner of Truth
Year
ISBN

9781848714328
---
The aim of this book is no less than to provide an account of the unfolding of the mind of God in history, through the successive agents of his special revelation. Vos handles this under three main divisions: the Mosaic epoch of revelation, the prophetic epoch of revelation, and the New Testament.
Such an historical approach is not meant to supplant the work of the systematic theologian; nevertheless, the Christian gospel is inextricably bound up with history, and the biblical theologian thus seeks to highlight the uniqueness of each biblical document in that succession. The rich variety of Scripture is discovered anew as the progressive development of biblical themes is explicated.
To read these pages- the fruit of Vos's 39 years of teaching biblical theology at Princeton- is to appreciate the late John Murray's suggestion that Geerhardus Vos was the most incisive exegete in the English-speaking world of the twentieth century.
TABLE OF CONTENTS
                                                                                                                                                                                                                                               Page
The Old Testament        
                PART ONE          
                THE MOSAIC EPOCH OF REVELATION     
1              INTRODUCTION: THE NATURE AND METHOD OF BIBLICAL THEOLOGY      3
                Division of Theology into four great departments – definition of   Biblical Theology – the various things successively designated by the name of   Biblical Theology – guiding principles – objections to the name 'Biblical   Theology' – the relation of Biblical Theology to other disciplines – the   method of Biblical Theology – practical uses of the study of Biblical   Theology            
2              THE MAPPING OUT OF THE FIELD OF REDEMPTION          19
                Pre-redemptive and Redemptive Special Revelation – the division of   Redemptive Special Revelation – 'Diatheke'               
3              THE CONTENT OF PRE-REDEMPTIVE SPECIAL REVELATION            27
                Four principles: life, probation, temptation, death – mortality   and immortality 
4              THE CONTENT OF THE FIRST REDEMPTIVE SPECIAL REVELATION 41
                The three curses – 'seed' – human suffering     
5              THE NOACHIAN REVELATION AND THE DEVELOPMENT LEADING UP TO IT             45
                Cainites and Sethites – Revelation after the Flood           
6              THE PERIOD BETWEEN NOAH AND THE GREAT PATRIARCHS         56
                The prophetic deliverances of Noah – the table of the nations –   the division of tongues – the election of the Shemites to furnish the bearers   of redemption and revelation
7              REVELATION IN THE PATRIARCHAL PERIOD          66
                Critical views – the historicity of the patriarchs – theophanies –   the Angel of Jehovah – the Patriarch Abraham – the principle of election –   the objectivity of the gifts bestowed – the promises fulfilled supernaturally   – the divine name 'El-Shaddai' – faith as found in patriarchal   religion – ethical elements – the Patriarch Isaac – the Patriarch Jacob –   election – the Bethel dream-vision – the wrestling at Peniel        
8              REVELATION IN THE PERIOD OF MOSES 100
                [A] The Place of Moses in the Organism of Old Testament Revelation     100
                The prominence of Moses          
                [B] The Form of Revelation in the Mosaic Period               105
                The pillar of cloud and fire – the Angel of Jehovah – the name and   the face of Jehovah               
                [C] The Content of the Mosaic Revelation            109
                [1] The factual basis. Deliverance from foreign bondage –   deliverance from sin – a display of divine omnipotence – a demonstration of   sovereign grace – the name 'Jehovah' – the Passover          109
                [2] The Berith made between Jehovah and Israel             121
                [3] The organization of Israel: the theocracy. The function of law               124
                [4] The Decalogue. Of world-wide application – religious in   character – the Ten Words – the First Word – the Second Word – the Third Word   – the Fourth Word         129
                [5] The Ritual (ceremonial) Law. Symbol and Type – the Tabernacle   – the majesty and holiness of God – the place of worship – Christ is the   anti-typical Tabernacle – the sacrificial system of the law – offerings,   gifts, sacrifices – the relation between the offerer and his sacrifice – the   stages of the sacrificial ritual – vicariousness defined – the meaning of   'covering' – the variety of offerings – uncleanness and purification –   totemism – ancestor-worship – the animistic theory                143
                PART TWO         
                THE PROPHETIC EPOCH OF REVELATION               
1              THE PLACE OF PROPHETISM IN OLD TESTAMENT REVELATION     185
                A kingdom-producing movement – the word as the instrument of   prophetism – a factor of continuity – two main periods of prophetism  
2              THE CONCEPTION OF A PROPHET: NAMES AND ETYMOLOGIES   191
                The Hebrew term nabhi – the Greek term prophetes –   the terms ro'eh and chozeh     
3              THE HISTORY OF PROPHETISM: CRITICAL THEORIES          198
                The History of prophetism – the origin of 'nabhi'-ism' in   Israel, arguments and counter-arguments – did the later prophets create   ethical monotheism? 
4              THE MODE OF RECEPTION OF THE PROPHETIC REVELATION          212
                The views of Kuenen explained – 'kernel-revelation' – the   'divination' theory – revelation through speech and hearing – revelation   through showing and seeing – revelation through rapture – bodily effects –   the intra-mental state – extreme critical views answered              
5              THE MODE OF COMMUNICATION OF THE PROPHECY      230
                Speech – miracles           
6              THE CONTENT OF THE PROPHETIC REVELATION  234
                [A] The Nature and Attributes of Jehovah            234
                Monotheism – the nature and attributes of Jehovah – omnipotence –   'Jehovah of hosts' – Jehovah's relation to time and space – omniscience –   holiness – righteousness – emotions and affections    
                [B] The Bond between Jehovah and Israel           256
                [C] The Rupture of the Bond: The Sin of Israel    263
                Collective national sin – the corruption of ritual worship – Amos   5.25 – Isaiah 1.10-17 – Hosea 6.6 – Micah 6.6-9 – Amos 4.4 – Jeremiah 7.21-23   – social sin – Hosea's doctrine of sin – Isaiah's doctrine of sin – Israel's   sin as viewed by the prophets historically      
                [D] The Judgment and the Restoration: Prophetic Eschatology   286
                The views of the Wellhausen school of criticism – the   eschatological teaching of the prophets – Hosea – Isaiah – the 'latter days'   in Hosea – the 'future glory' in Isaiah  
The New Testament      

1              THE STRUCTURE OF NEW TESTAMENT REVELATION         299
                [1] From indications in the Old Testament           
                [2] From the teachings of Jesus
                [3] From the teachings of Paul and the other apostles   
                The new dispensation is final – is a further revelation to be   expected?
2              REVELATION CONNECTED WITH THE NATIVITY   305
                Aspects of the Nativity 
3              REVELATION CONNECTED WITH JOHN THE BAPTIST         311
                Matthew 11.2-19 – John the Baptist and Elijah – John the Baptist's   testimony to Jesus – John's baptism – the baptism of Jesus by John – the   descent of the Spirit on Jesus – the post-baptismal testimony of the Baptist   to Jesus – John 1.15, 30 – John 1.29, 36 – John 1.34 – John 3.27-36 
4              REVELATION IN THE PROBATION OF JESUS           330
                The temptation in the wilderness – the Lord's temptation and our   own – the specific form assumed by our Lord's temptation – the Lord's   temptations interpreted – Deuteronomy 8.3 – Deuteronomy 6.16 – Deuteronomy   6.13 – temptability and peccability       
5              THE REVELATION OF JESUS' PUBLIC MINISTRY    343
                [A] The Various Aspects of Christ's Revealing Function   343
                Four divisions of revelation by Christ – Jesus' revealing work in   the Gospels      
                [B] The Question of Development           348
                [C] The Method of Jesus' Teaching          350
                Similitudes – parables proper – specialization-parables – the   'allegorical' method – the philosophy of the parabolic teaching – 'time' and   'truth' in the Fourth Gospel          
                [D] Jesus' Attitude Toward the Scriptures of the Old Testament                357
                A 'religion of the Book' – certain critical claims disproved              
                [E] Jesus' Doctrine of God            363
                Jesus' teaching on the divine Fatherhood – Jesus' stress on the   divine majesty and greatness – the retributive righteousness of God   
                [F] Jesus' Teaching on the Kingdom of God          372
                [1] The formal questions. The kingdom in the Old Testament – the   kingdom in the Gospels – 'the kingdom of Heaven' – modern theories of 'the   kingdom' – the two-sided conception of the kingdom          372
                [2] The essence of the kingdom. Divine supremacy in the sphere of   power – faith as related to the kingdom's power – 'faith' as used in John –   divine supremacy in the sphere of righteousness – our Lord's critique of   Jewish ethics – repentance – divine supremacy in the sphere of blessedness –   kingdom and church     385
                INDEX: SUBJECTS AND NAMES   403
                SCRIPTURE REFERENCES               417
---
Share this Product
---
More from this collection