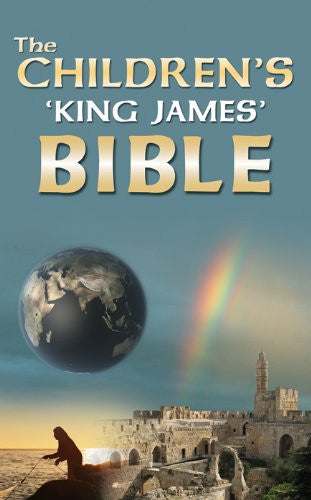 Children's 'King James' Bible
Product Details
Publisher
Reformation Heritage Books
Year
2006
ISBN

9781892777713
---
Dr Joel Beekes Reformation Heritage Books have produced this edition of the slightly simplified and updated version of the King James translation issued by Jay P Green in 1960-62. Dr Beeke writes: The Childrens King James Bible brings the majesty and faithfulness of the King James Version to the level of children. The wording of the unsurpassed King James Version has been adjusted to suit a fourth graders comprehension. Because it follows the King James Version so closely, The Childrens King James Bible should allow a child to transition easily to the King James Version within a few years.
Table of Contents
Bible Stories
Wise Men From the East
The Flight Into Egypt
The Temptations of Jesus
The Kingdom of Heaven
Treasures in Heaven
Doers of the Word
Jesus and the Sabbath
The Parable of the Tares
Jesus Walks on the Water
A Heathen Woman's Faith
Jesus is Transfigured
The Unmerciful Servant
The Lord of the Vineyard
The Wedding Feast
the Wise and Foolish Virgins
The Last Supper
The Burial of Jesus
Through the Roof
Four Kinds of Soil
Pigs into the Sea
Jairus' Daughter is Raised
A Birthday Party
Five Loaves and Two Fishes
The Deaf Hear and the Blind See
A Den of Thieves
The Wicked Farmers
Gethsemane
The Kiss of Judas
Peter Denioes his Lord
John the Baptist is Born
Gabriel's Message to Mary
Jesus is Born
In His Father's House
The Great Catch of Fish
The Roman Centurion
Anointed by a Sinful Woman
The Good Samaritan
Ask, and it Shall be Given
The Prodigal Son
The Rich Man and Lazarus
Two Prayers and Two Gifts
Zaccheus
Hossanna to the Son of David
Jesus is Risen
On the Way to Emmaus
And many more chapters...
---
Share this Product
---
More from this collection