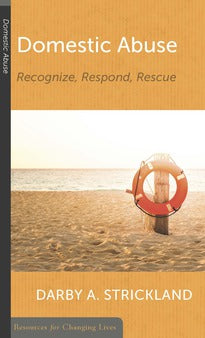 Domestic Abuse: Recognize, Respond, Rescue PB
By:
Darby A. Strickland
Product Details
Publisher
Resources for Changing Lives
Year
2018
ISBN

9781629953281
---
Abuse in a marriage is a difficult problembut there is comfort in knowing that the Bible points the way toward answers. While it may not use the language of victims and abusers, it has plenty to say about the oppressed and their oppressors, and how much God opposes oppression. Experienced family counselor Darby Strickland shows counselors and concerned family and friends how to recognize and uncover abuse, then uses Scripture to show what is truly happening in oppressive marriages. She explains how abuse confuses the oppressed into thinking they are to blame, then equips us to be the wise, informed defenders and advocates they need. Learn how to walk patiently with victims and guide abusers toward repentance, through Strickland's concrete suggestions for comforting and protecting the oppressed while reorienting the heart of the oppressor.
---
Share this Product
---
More from this collection