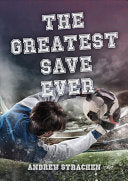 Greatest Save Ever PB
By:
Andrew Strachan
Product Details
Publisher
Christian Focus Publications
Year
2018
ISBN

9781527102378
---
Every weekend you can watch football either on a screen or on the pitch. You might play a game yourself. Perhaps you'll even see some good saves. This book will tell you about the greatest save ever … and it wasn't in a football match!
With football facts and Bible verses, this book for 8–12 year olds looks at the referee, the rules, and the greatest Substitute, explaining the gospel through football.
About Andrew Strachan
Andrew lives in the North East of Scotland with his wife and their four children. He presents the message of the Bible to children, teenagers and parents through holiday clubs, summer camps and After School Klubs where he always encourages people to ASK about the Bible.
---
Share this Product
---
More from this collection