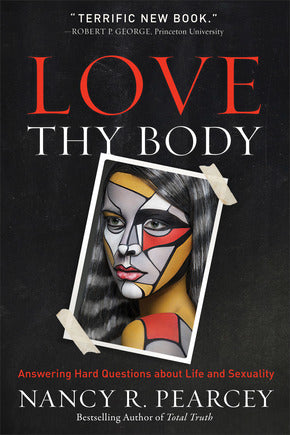 Love Thy Body: answering hard questions about life and sexuality HB
Product Details
Publisher
Baker Books
Year
2018
ISBN

9780801075728
---
Why the call to Love Thy Body? To counter a pervasive hostility toward the body and biology that drives today's headline stories:
 
Transgenderism: Activists detach gender from biology. Kids down to kindergarten are being taught their body is irrelevant to their authentic self. Is this affirming--or does it demean the body?

Homosexuality: Advocates disconnect sexuality from biological identity as male or female. Is this liberating--or does it denigrate biology?

Abortion: Supporters say the fetus is not a person, though it is biologically human. Does this mean equality for women--or does it threaten the intrinsic value of all humans?

Euthanasia: Those who lack certain cognitive abilities are said to be human but not persons. Is this compassionate--or does it ultimately put everyone at risk?
 
In Love Thy Body, bestselling author Nancy Pearcey goes beyond politically correct slogans with a riveting exposé of the dehumanizing worldview that shapes current watershed moral issues.
 
Endorsements
"Liberal secularist ideology rests on a mistake, and Nancy Pearcey, in her terrific new book, puts her finger right on it. In embracing abortion, euthanasia, homosexual conduct and relationships, transgenderism, and the like, liberal secularism conceives the body not as an aspect of the personal reality of the human being, fully sharing in his or her intrinsic worth and dignity, but rather as an extrinsic instrument of the mind or psyche or self--which is considered the true 'person.' This instrumentalization of the body underwrites liberal secularist ethics from top to bottom; yet, as Pearcey shows, it is philosophically as well as theologically untenable. The mental-spiritual and bodily aspects of the human person are a unity. The body truly is part of the personal reality of the human being and shares fully in his or her inherent dignity. From that, as Pearcey demonstrates, much follows for the ethics of life and death and sexuality and marriage."

Robert P. George, McCormick Professor of Jurisprudence, Princeton University
"Nancy Pearcey unmasks the far-reaching practical consequences of mind-body dualism better than anyone I have ever seen. This book is not only good reading for all well-informed Christians but it should be used as a textbook for applied philosophy. I heartily recommend it."

Jennifer Roback Morse, founder and president, The Ruth Institute
"Nancy Pearcey models on every page how to understand secular worldviews in order to engage them effectively in post-Christian America. Love Thy Body is a must-read book."

Rosaria Butterfield, former professor, Syracuse University; author, The Secret Thoughts of an Unlikely Convert
"Nancy Pearcey get straight to the fundamental issue of our day: What makes humans valuable in the first place? How we answer will do nothing less than determine cultural norms on abortion, doctor-assisted suicide, and sexual ethics. For years, I've warned pro-lifers our primary problem is a destructive worldview that defines humans by function, not nature. If you want to engage the culture, you simply must get this book. Don't just read it. Master it."

Scott Klusendorf, president, Life Training Institute; author, The Case for Life
Nancy Pearcey
Nancy Pearcey is a bestselling, award-winning author who serves as professor of apologetics and scholar in residence at Houston Baptist University. She is also editor at large of The Pearcey Report and a fellow at Discovery Institute's...
---
Share this Product
---
More from this collection