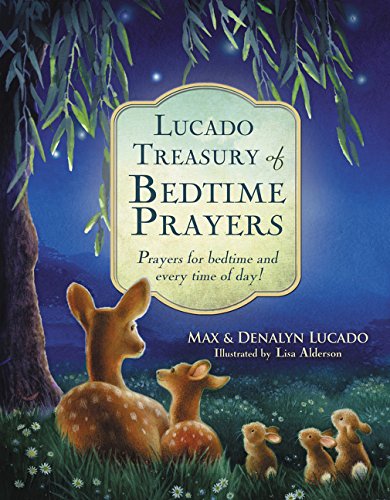 Lucado Treasury of Bedtime Prayers: Prayers for bedtime and every time of day HB
Product Details
Publisher
Thomas Nelson
Year
ISBN

9780718016319
---
Prayer is the foundation of a believers life. This collection of prayers from Max and Denalyn Lucado offers parents a resource to teach little ones how to talk to God. This prayer collection includes classic prayers that have been updated for todays young readers, introductory stories for each section, as well as twenty new prayers for little ones written by Max and Denalyn.
Max and Denalyn open the book with an expanded introduction that instructs parents on teaching their children to pray. A helpful prayer builder taken from Maxs trade book Before Amen teaches kids that there are four different kinds of prayers: worship, trust, compassion, and gratitude. This collection of new and classic childrens prayers are divided into ten sections. Children will find it easier to learn to pray with examples showing that prayer is a dialogue with God for all times. Beautiful art by Lisa Alderson complements the keepsake style of the book.   
Its never too early to lay a strong foundation for a childs faith, and the Lucado Treasury of Bedtime Prayers will help parents do just that.
---
Share this Product
---
More from this collection