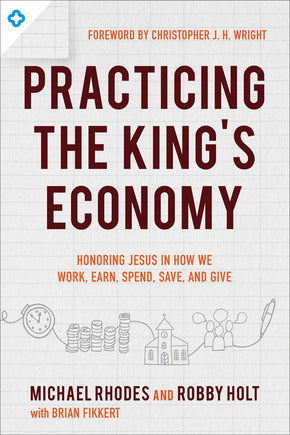 Practicing the King's Economy: Honoring Jesus in How We Work, Earn, Spend, Save, and Give
By:
Michael Rhodes, Robby Holt
Product Details
Publisher
Baker Books
Year
2018
ISBN

9780801075742
---
"Here is economic wisdom for humans with habits and desires, immersed in patterns and practices. Here is a model of economic discipleship that doesn't just tell you what to think but how to practically live in an economy of the kingdom. Here is a book that refuses idealism but is fueled by resurrection hope. But you can't pull this off on your own, so buy copies for your family, friends, and congregation."--James K. A. Smith, professor of philosophy at Calvin College; author of You Are What You Love
"Beautifully exegeted. Practicing the Jesus Economy reintroduces a wide-ranging, timeless, and distinctive approach to economics that only the body of Christ can display."
K. A. Ellis, Cannada Fellow for World Christianity, Reformed Theological Seminary
Baker
---
Share this Product
---
More from this collection