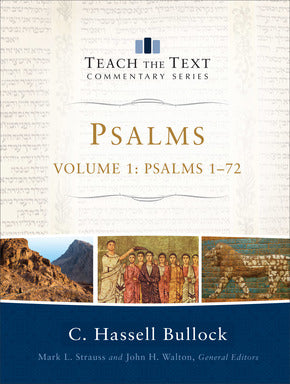 Psalms, Volume 1 Psalms 1–72 HB
Product Details
Publisher
Baker Books
Year
2015
ISBN

9780801091971
---
The Teach the Text Commentary Series gives pastors the best of biblical scholarship and presents the information needed to move seamlessly from the meaning of the text to its effective communication. By providing focused commentary on each psalm, this volume allows pastors to quickly grasp the most important information. Each unit of the commentary includes the big idea and key themes of the passage; sections dedicated to understanding, teaching, and illustrating the text; and full-color illustrations, maps, and photos.
Throughout the centuries, the Psalms have held a beloved place in Judaism and Christianity, and in the lives of individual believers. They express in profound ways the thoughts and emotions of the soul, from the highest experiences of joy and praise to the lowest valleys of lament. C. Hassell Bullock has been deeply shaped by the Psalms, and this commentary is born out of a lifetime of loving study--as a Christian, a professor, and a pastor. He brings all three perspectives to bear, skillfully leading the reader through each psalm, with attention paid to genre, structure, theology, and practical application. Here is wise guidance for preachers and teachers who wish to bring the timeless messages of the Psalms to today's believers.
"This well-designed series fills a niche and will be welcomed by busy expositors of Scripture, and Hassell Bullock is a master guide into the riches of the book of Psalms. Bringing a lifetime of academic study and teaching of the Psalms to the task, Bullock communicates the meaning of each psalm clearly, providing insight after insight in every passage and highlighting the main theological points of each psalm. Bullock's warm-hearted devotion to the God of the Psalms and his love for the church also shine through clearly. I highly recommend this work."--
David Howard
, professor of Old Testament, Bethel University
"Teach the Text is the kind of commentary I have wanted for a long time."--
Haddon Robinson
, Harold John Ockenga Distinguished Professor of Preaching, Gordon-Conwell Theological Seminary
"This series puts whole worlds of biblical context and information in the hands that need it most."--
John Ortberg
, senior pastor of Menlo Park Presbyterian Church; author of 
Who Is This Man?

C. Hassell Bullock
 (PhD, Hebrew Union College) is Franklin S. Dyrness Professor Emeritus of Biblical Studies at Wheaton College. He is the author of 
An Introduction to the Old Testament Poetic Books
 and 
Encountering the Book of Psalms
.
---
Share this Product
---
More from this collection