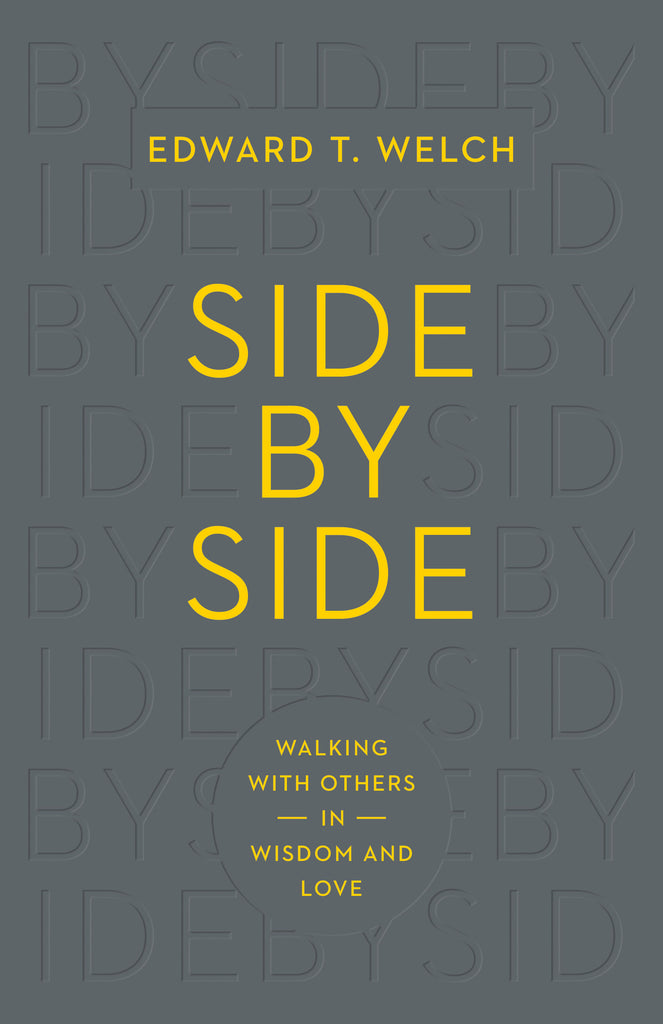 Side by Side: Walking with Others in Wisdom and Love
By:
Edward T. Welch, Edward T. Welch
Product Details
Publisher
Crossway
Year
2015
ISBN

9781433547119
---
Practical Guidance for Loving Others Well
Everyone needs help from time to time, especially in the midst of painful circumstances and difficult trials. In this short book, a highly respected biblical counselor and successful author offers practical guidance for all Christians—pastors and laypeople alike—who want to develop their "helping skills" when it comes to walking alongside hurting people.
Written out of the conviction that friends are the best helpers, this accessible introduction to biblical counseling will equip believers to share their burdens with one another through gentle words of wisdom and kind acts of love. This book is written for those eager to see God use ordinary relationships and conversations between ordinary Christians to work extraordinary miracles in the lives of his people.
---
Author:
---
Endorsements:
"The task of counseling is the task of loving others well. This book will help you to know what the love of Christ looks like, how to extend it to others, and how to accept it from others as you live in relationship together."
Heath Lambert, associate pastor, First Baptist Church of Jacksonville; executive director, Association of Certified Biblical Counselors; author, A Theology of Biblical Counseling and Finally Free
"There are two things that Welch's book does very well. It demonstrates that no one gives grace better than a person who is convinced he needs it himself and that God makes his invisible grace visible by sending ordinary people to give extraordinary grace to people who need it. Welch not only reminds us all of our call to friendship ministry but also unpacks for us what it looks like. Every Christian should read this book!"
Paul David Tripp, President, Paul Tripp Ministries; author, What Did You Expect?
"Welch builds a vision of a Christian community that moves beyond platitudes and empty promises to deep, scriptural, Christlike relationships. You will find this book to be a helpful primer on how to ask for and provide help in the midst of an age of separation."
Elyse Fitzpatrick, author, Home: How Heaven and the New Earth Satisfy Our Deepest Longings and Because He Loves Me: How Christ Transforms Our Daily Life
Table of Contents:
Part 1: We Are Needy
Life Is Hard
Our Hearts Are Busy
Hard Circumstances Meet Busy Hearts
Sin Weighs a Lot
Say "Help" to the Lord
Say "Help" to Other People
Part 2: We Are Needed
Remember: We Have the Spirit
Move toward and Greet One Another
Have Thoughtful Conversations
See the Good, Enjoy One Another
Walk Together, Tell Stories
Have Compassion during Trouble
Pray during Trouble
Be Alert to Satan's Devices
Prepare to Talk about Sin
Help Fellow Sinners
Keep the Story in View
---
Share this Product
---
More from this collection