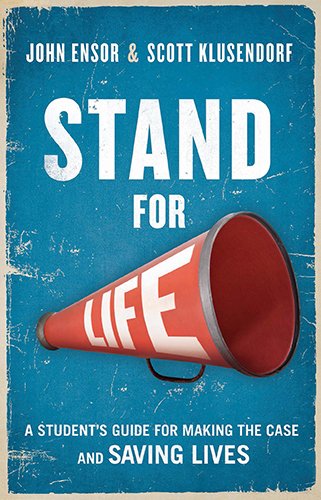 Stand for Life: Answering the Call, Making the Case, Saving Lives PB
By:
John Ensor, Scott Klusendorf
Product Details
Publisher
Hendrickson Publishers
Year
2012
ISBN

9781619701175
---
Of the 1.2 million abortions performed annually in the U.S., more than 500,000 are performed on college-aged women. They make up 44% of all abortions in the country.
So it is not surprising that there is a large, thriving network of pro-life groups on college campuses. The most prominent of these is Students for Life of America, which has 637 pro-life student groups on college campuses in forty-eight states. These groups serve to advocate for pro-life and educate other young people about the physical, emotional, psychological and spiritual effects that abortion has on women.
While there are online guides and booklets on the topic, there are currently very few—if any—books that are specifically geared for use by young advocates for this cause. Now there is Stand for Life, a "manual" that addresses tough questions in a format that is concise and straightforward.
Topics include:
• Defending your pro-life views in five minutes or less
• Understanding the sanctity of human life
• Simplifying the abortion debate
• Developing a Christian response to abortion
• Debate: keeping cool under fire
• Q&A's about such thorny issues as unsafe abortions, abortion when mothers' lives are at risk, "my body, my choice," and more.
Author Bios
John Ensor, an ordained evangelical pastor, serves as a leader in the pro-life movement as a speaker, author, mentor, and colaborer. John is president of PassionLife, where he concentrates on helping missionaries and indigenous Christian leaders serving in countries plagued by abortion to equip the church in bioethics and pregnancy crisis intervention services.
Scott Klusendorf is the president of Life Training Institute, where he trains pro-life advocates to persuasively defend their views. A passionate and engaging platform speaker, Scott's pro-life presentations have been featured by Students for Life of America, Focus on the Family, Truths That Transform, and American Family Radio. Scott routinely debates abortion-choice advocates at the university level and his book The Case for Life: Equipping Christians to Engage the Culture.
---
Share this Product
---
More from this collection