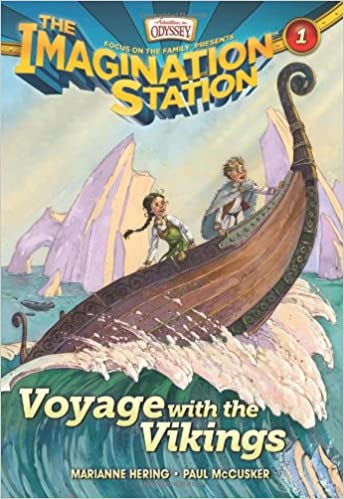 The Imagination Station 1: Voyage with the Vikings PB
By:
Marianne Hering, Paul McCusker
Product Details
Publisher
Tyndale
Year
2010
ISBN

9781589976276
---
Watch for falling ice and flying spears!
"Your Christ is a God of peace--not war!" Erik the Red said. "He has no place in Greenland."
Mr. Whittaker, a kind but mysterious inventor, has sent cousins Patrick and Beth to Greenland through the Imagination Station. It's the year 1000, and they meet Viking Erik the Red, who is angry about the new God. Mr. Whittaker wants the cousins to find a Sunstone, but what does one look like? And what does it have to do with the mysterious letter found in the inventor's workshop? Most important, can Patrick and Beth find a Sunstone before Erik's son Leif sails away with the Imagination Station on board his ship?
---
Share this Product
---
More from this collection