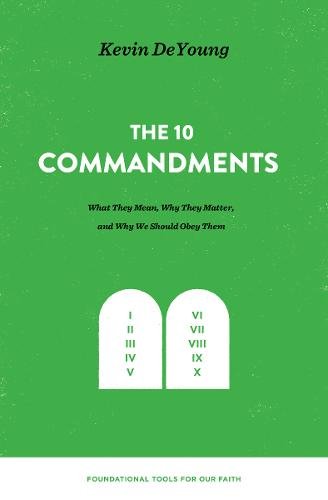 The Ten Commandments: What They Mean, Why They Matter, and Why We Should Obey Them HB
By:
Kevin DeYoung
Product Details
Publisher
Crossway
Year
2018
ISBN

9781433559679
---
Highlighting the timelessness and goodness of God's commands, pastor Kevin DeYoung delivers critical truth about the 10 Commandments as he makes clear what they are, why we should know them, and how to apply them. This book will help you understand, obey, and delight in God's law—commandments that expose our sinfulness and reveal the glories of God's grace to us in Christ.
---
Author:
---
Endorsements:
"Seasoned by personal wit, shaped by years of pastoral ministry, and highly skilled in interpreting God's Word, Kevin DeYoung is the right person to write this book. DeYoung fleshes out the Ten Commandments in a way that helps us see the wisdom of our Creator and Redeemer in directing us on our pilgrim way. I highly recommend this book!"
Michael Horton, J. Gresham Machen Professor of Systematic Theology and Apologetics, Westminster Seminary California; Host, White Horse Inn; author, Core Christianity
"Kevin DeYoung has emerged as one of this generation's premier preachers and most articulate communicators. Those who know his ministry will find what they have come to expect from him in The Ten Commandments: What They Mean, Why They Matter, and Why We Should Obey Them. I encourage anyone searching to know God's Word better and how it applies to the Christian life to buy this book and read it."
Jason K. Allen, President, Midwestern Baptist Theological Seminary
"Is understanding the Ten Commandments necessary under the new covenant? A resounding yes! Thorough, accessible, relevant, and convicting, this book offers the most insightful analysis of the Ten Commandments I've ever read, skillfully applying them to our lives today. DeYoung beautifully marries grace and truth, leading the reader to understand the importance of obedience and the cross that makes it possible."
Vaneetha Rendall Risner, author, The Scars That Have Shaped Me: How God Meets Us in Suffering
---
Table of Contents:
Introduction: The Good News of Law
1. God and God Alone
2. The Way of Worship
3. What's in a Name?
4. Rest, Rejoice, Repeat
5. Honor to Whom Honor Is Due
6. Murder, We Wrote
7. An Affair of the Heart
8. Treasures in Heaven
9. True Witnesses
10. The Rare Jewel of Christian Contentment
Epilogue
Acknowledgments
Study Guide: Etched in Stone, Inscribed on Hearts Notes
General Index
Scripture Index
---
Share this Product
---
More from this collection