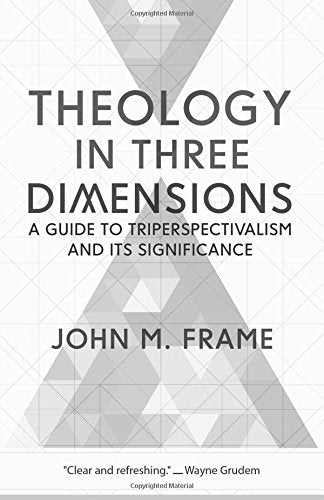 Theology in Three Dimensions: A Guide to Triperspectivalism and Its Significance
By:
John M Frame
Product Details
Publisher
Presbyterian and Reformed
Year
2017
ISBN

9781629953229
---
Because God created all things with coherent unity, everything can be understood from the perspective of everything else. We experience the world in the context of our own bodies, but every day we broaden our understanding through the perspectives of others. Meanwhile, our omniscient God is also omniperspectival. Through his revelation, he allows us a glimpse of his own divine perspective.
What does this mean for us? One valuable dimension of this reality is that theological issues can also be helpfully viewed from multiple perspectives without compromising their unity and truth. In this accessible introduction to his Bible study and theological method, John Frame teaches us to approach doctrine with situational, normative, and existential perspectives modeled on the Trinity.
Endorsements
"A clear and refreshing explanation of John Frame's insightful approach to studying the Bible (and everything else!) from three different 'perspectives.' It is the fruit of a lifetime of thinking and teaching."
—Wayne Grudem, Research Professor of Theology and Biblical Studies, Phoenix Seminary
"As one of the foremost Christian philosophers and theologians of our day, Frame argues for us to think of theology not only as the accumulation and memorization of doctrinal ideas, but also as the practical application of those ideas to hearts and lives."
—Steve Childers, President, Pathway Learning
"Frame shatters the common notion that profundity and scholarship must be long, tedious, arcane, and impractical. . . . The crisp text, usable discussion questions, handy glossary, and additional resources make this work an accessible gateway for exploring and habituating 'what God's Word requires me to do now.'"
—Jeffery J. Ventrella, Senior Counsel, Senior Vice-President, Strategic Training, Alliance Defending Freedom
The Author
John M. Frame (AB, Princeton University; BD, Westminster Theological Seminary; MA and MPhil, Yale University; DD, Belhaven College) holds the J. D. Trimble Chair of Systematic Theology and Philosophy at Reformed Theological Seminary in Orlando and is the author of many books, including the four-volume Theology of Lordship series.
---
Share this Product
---
More from this collection