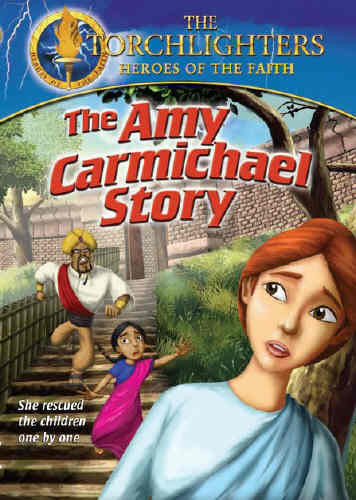 Torchlighters The Amy Charmichael Story DVD
Product Details
Publisher
Vision Video
Year
ISBN

727985013718
---
As Amy Carmichael travels about southern India at the turn of the twentieth century, her deepest desire is to share Jesus love with the local people. She has traded her Irish clothing for a cheap Indian sari, gathered together a small group of women, and laid aside all plans for marriage and children. As one of her Indian companions points out, children would "tie the feet," taking her attention away from her goal of sharing Christ with the people of India. Upon adopting the name "The Starry Cluster," the little group eagerly sets out with great hope of fulfilling Daniel 12:3: "Those that lead many to righteousness shall shine like the stars forever." However, results are few as the Indian caste system, which does not allow people of different social levels to interact, and the societys lesser appreciation of women, make it difficult to connect with the people. Even so, some of the women and a few children are drawn to their Christian message.
Meanwhile, seven-year-old Preena has been given to the Indian temple by her impoverished family in an attempt to gain the favor of the Hindu gods. Though the temple women try to break her spirit through hard work and confinement, Preena holds on to the hope of escape. During her first daring getaway, Preena encounters Amy Carmichael in the market place and quickly recognizes something different in this kind woman in the light blue sari. As the temple leaders snatch her away, Preena cries out for help even as she grabs hold of the cross swinging from Amys neck. Back at the temple, Preena pays dearly for running away and is warned to stay away from Amy Carmichael, known in the village as the "soul-stealing woman." Yet, Preena cannot forget the kindness and love she saw in Amy - a love she describes as "all light." Driven by that love and led by a God she has barely heard about, Preena attempts another escape in order to find Amy. Through a miraculous work of God, Amy returns to her village from a missionary journey just as Preena escapes the temple for a second time, and they soon find each other. Preena becomes the first of many children who eventually join the Starry Cluster. The work Amy began among the women and children of India continues to this day through the Dohnavur Fellowship.
VAT will be charged on this item.
---
Share this Product
---
More from this collection