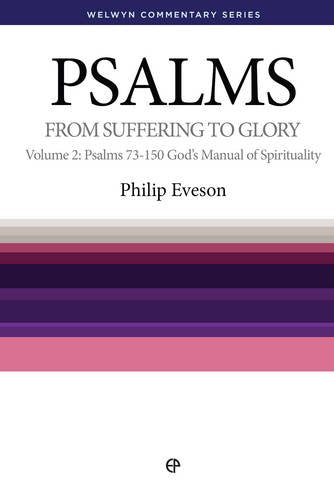 WCS Psalms Volume 2: Psalms 73 - 150 God's Manual of Spirituality: From Suffering to Glory PB
By:
Philip H. Eveson
Product Details
Publisher
EP Books
Year
2015
ISBN

9781783970216
---
The Psalms continue to have an enormous influence on people's lives all round the world and down the centuries they have brought comfort and encouragement to countless millions of people.
Dag Hammarskjold, the second Secretary–General of the United Nations, died in a plane crash in 1961. His briefcase was recovered from the crash site and among the items it contained were a copy of the New Testament and the Book of Psalms.
In the New Testament the most quoted book of the Old Testament is the Psalms. Jesus clearly committed them to memory and found them speaking to him and for him concerning his ministry in life and death. The Apostles turned to the Psalms in their preaching as well as when praying for boldness in the face of strong persecution. Following the example set by our Lord, the writers of the New Testament saw them as pointers to the person and work of Christ.
In this commentary, Philip Eveson brings his skills as an Old Testament scholar, blended with a warm pastor's heart to produce a work that will serve the student, the preacher/teacher and the devotional reader equally well.
---
Share this Product
---
More from this collection