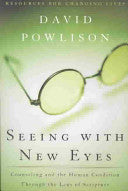 Seeing with New Eyes: Counseling and the Human Condition Through the Lens of Scripture
By:
David Powlison
Product Details
Publisher
Presbyterian and Reformed
Year
2003
ISBN

9780875526089
---
This book consists of essays by a highly regarded biblical counselor written over almost twenty years. Some of these pieces exegete Scripture with a counseling perspective, while others recast specific psychological problems. This book explores two main topics. Scripture: Gods voice speaks into real life to reveal the gaze and intentions of the Christ who pursues us. How do we embrace, probe, and unravel Scripture? Understanding people amid their real life struggles: How do we embrace, probe, and unravel the problems of daily life?
---
Share this Product
---
More from this collection